Hey everyone!
The other week I put out my first commercial game "Blue Boy: Bleeding Out" which was originally a game I made here on NG for Halloween 2019
Here's the YouTube trailer and a little gif, to show you what the game's like.
You bleed as you run and must avoid touching your bloody path on the way to the exit.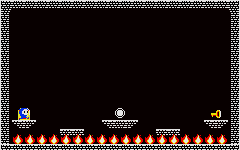 I released it on Steam originally and now I've just released it on itch.io too!
I've also made a demo which contains the first 12 levels. The demo's currently available on itch.io, and should be up on Steam too in a few days. You can also cop the soundtrack on bandcamp or listen to it here
That's all for now, thanks for stopping by!